Frisky's Gold Sponsors
Fern and Edward Hamel
Scott Robbins
Heather A. Wandell, CLL
www.anotherwaytoseeit.com
Francine and Ron Diggs
The Tucker-Diggs Foundation
Joseph and Nancy Riley
David and Pamela McKusick
Simian Society of America Ch. 13
Patricia Carey
Howard C. Muller and Marguerite E. Muller Charitable Foundation, Inc.
Tallpines Forest Products, Inc.
Evalyn K. Garvin
John and Peggy Maynes
Murzy & Christine Jhabvala
Jane O'Leary
Robert and Judy Carlton
Ronald and Florence Mardaga
Richard and Gail Collins
William and Jennifer Burgy
Michael & Elizabeth Kelley
Enviro-Solutions, Inc.
Carolyn Clough
Bright Benefit Solutions, Inc./Sherry Ford-Fonseca
Lewis E. Klotzbach
Jessica Bronico www.bronico.com
Jeanne Boone
Lynn Smith
Rex & Michelle Ryan
Joel & Karen Richon
Danielle Schaffrath
Lisa Ricklin
Frisky
's
Silver Sponsors
Barbara Goodman & Mike Main
Kathleen Trammell
Samuel Keech
Mr. & Mrs. Monte Most
Kathleen Thomas
Debra Kuhn
Tom & Cecelia Toth
Kenneth & Annette Hahn
Eliza Dunn
The Styles and Wandell Families in memory of Lorna Adair
Beth Fowler
Katherine Peterson
Michele & Michael Barton
Karen Wimberley
Pettit Family Charitable Foundation
Toby and Patricia Lott
Brenda Logue
Margaret and Christina Spindler
Kimberly Morton
Frances Schwartz
Wayde & Christie Minami
Diane & John Nagengast
Francis & JoAnn Sorbo
Thomas & Elaine Welsh
Carol Bandell
Leslie Bridgett
Wayne & Sylvia Baggett
Clement & Linda Collins
Chiachung Lee
Peter & Cynthia Poggi
Brian & Yolanda Flaskrud
Welcome to Frisky's Wildlife and Primate Sanctuary, Inc. on-line!
At Frisky's, we have 3 main spheres of service to animals. Frisky's is a non-profit Wildlife Rehabilitation center located in Howard County, MD. We take in injured, orphaned, abandoned, or displaced wildlife. If you find an injured animal in your yard or along the side of the road, you can bring it to us for rehabilitation, where the goal is to always return them back to their natural home once they are well enough or old enough. If you are not sure how to transport an injured animal, you may call us for instructions on how to get it here safely.

We are a rescue center and home to Primates and other small exotics who have been kept as Pets and are no longer able to live with their owners. Monkeys are not meant to be pets, but unfortunately there are brokers who continue to sell primates even though it is illegal in many states to have a monkey as a pet. They become too difficult and demanding for most to handle and end up having to find another home. You cannot take the wild animal instincts out of a monkey. We provide a safe home with love and enrichments for those primates who end up without a home and have been imprinted by human care. These animals live the remainder of their lives at Frisky's and are never adopted out.
We are sorry but Friskys NO longer accepts any domestic animals for adoptions. This includes but is not limited to: Birds, including domestic ducks and chickens, reptiles, rodents, rabbits or any other animal that can be purchased from a pet store, feed store or private person or organization.
Many hours per week are spent in telephone education and consulting. We find many people breathe a sigh of relief once they have been coached on what to do when they have a concern about wildlife in their yard. Sometimes an intervention is needed, sometimes it is not. We give people peace of mind when they know that they have done everything they could to help an animal they are concerned about.
Friskys Wildlife Sanctuary Garage Yard Sale LIVE Video

FRISKYS 2019 Annual Fundraising Garage Sale
Donations are still being accepted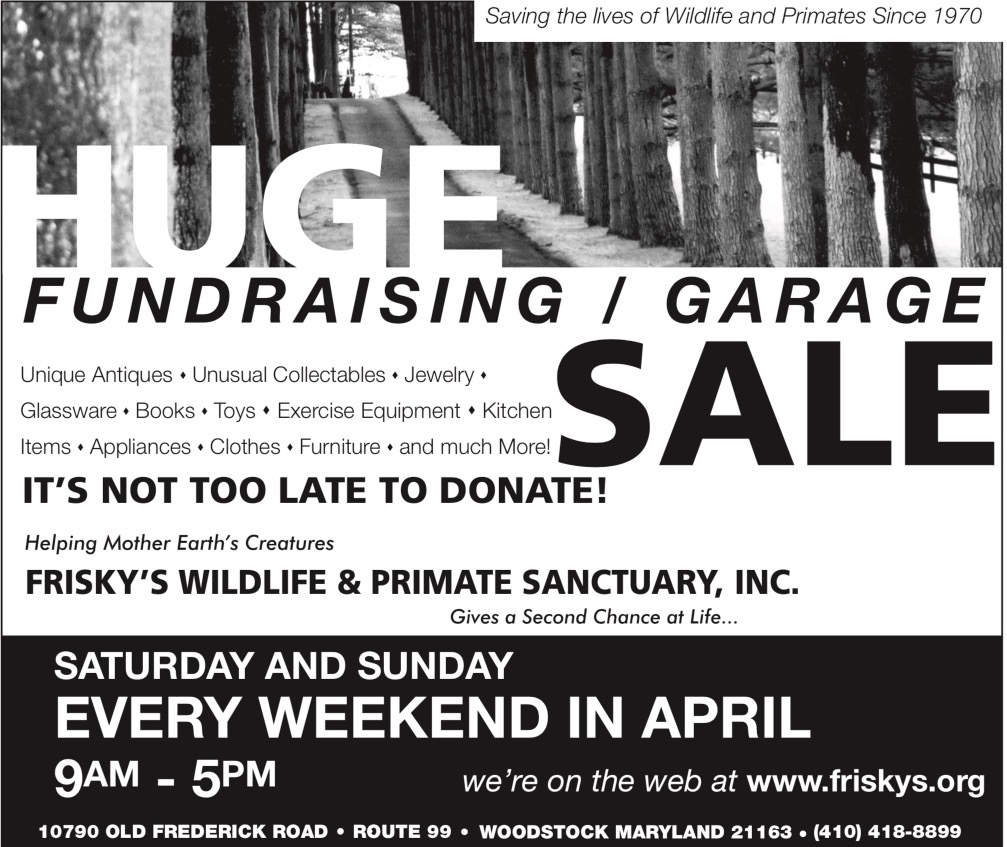 Donations can be taken directly to Friskys between 1 p.m. and 3 p.m. Please support Friskys Wildlife and Primate Sanctuary, Inc. The wildlife need your support.
Frisky's 2019 Fundraising Garage Sale Newsletter
Click here to see how your donations are being used ...

Please be patient ... photos may take several minutes to load.